Meet our expert Yorkshire jewellers
We have two expert jewellers at Form Bespoke Jewellers: Tim Swann & Gary Thompson. Our friendly team are based in our Leeds (West Yorkshire) jewellery workshop.
Director & Specialist Diamond Setter
"With a creative streak throughout my school years, a career in the design and crafting of bespoke fine jewellery was just a natural progression."
Straight from school…
My first step into jewellery was with a small retailer in my local Yorkshire town. Here, I mainly served over the counter and did a few repairs for customers. As time passed, my interest grew. As a result, I moved on to learn more about the ins and outs of jewellery by taking a position within a wholesale manufacturer in Leeds, West Yorkshire.
Manufacturing & retail jewellery…
Here I worked in a team of 15 (including Gary) and really started to build my expert skills. Taking on many new tasks, I learnt everything from casting to creating finished pieces. This provided a solid grounding for understanding how all aspects of jewellery production works. After about four years, I moved to Ogdens of Harrogate, a well-respected family jewellers in North Yorkshire. Here, I enjoyed working with finer, more expensive pieces and with customers who needed pieces re-designing or repairing. It was great to advise on maintaining customer's jewellery and being involved in the workshop.
Model-making & Management…
I was then head-hunted by the largest jewellery manufacturers in Europe (based in Leeds). I learnt model-making skills through working for clients nationally and internationally. It was here that I also discovered that there is a big difference between producing a piece which looks nice and one that is technically correct. I was enthralled by the precise nature of this level of jewellery creation. Five years on, I was approached by another Leeds firm to manage their model making department. I enjoyed heading up the team, managing deadlines and passing experience on to staff.
…From here, the next step was the creation of Form Bespoke Jewellers Ltd. And here you'll find our expert jeweller today, creating bespoke engagement rings, wedding rings and eternity rings (and much more!)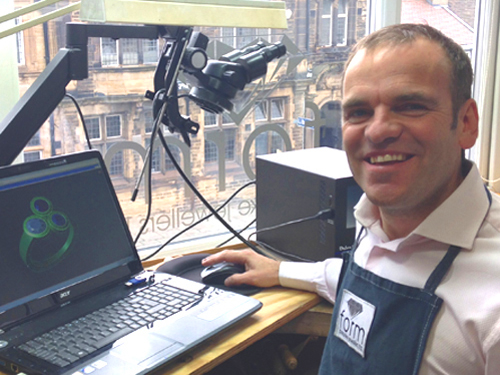 Director and CAD Design Expert
"It is such a gift to create something special and unique for someone from start to finish. I know this is what I was destined to do"
Straight from school…
I gained an apprenticeship with a wholesale manufacturer in Leeds. Here, I acquired my basic jewellery skills including jewellery repairing, casting and creating finished items. This also gave me a grounded knowledge of how all parts of jewellery production work.
Model-making and management…
In 1990, I joined the largest manufacturer of jewellery in Europe as a model maker. Then worked my way up to a managerial position overseeing a team of six. As an expert jewellery model-maker, I consequently worked on commercial ranges for high-end customers including Independent Jewellers and large national accounts (such as Marks & Spencer and Costco). It was in this role that I worked alongside Tim. I also worked in product development and in consultation with international companies. This led to an opportunity in the Far East establishing an 18ct gold high-end jewellery workshop. In addition, I managed the creative development from the UK to deliver highly competitive jewellery ranges.
CAD Designer and creator…
As well as being a fully skilled model maker and expert jeweller, I have fifteen years of CAD (Computer Aided Design) experience. This combines my skills of model making and jewellery design. After researching the market, I would present a jewellery collection matching the customers brief for review. Then a 3D CAD design would be created for each piece of jewellery, which would finally be sent to a 3D printer to be cast in their chosen precious metal.
CAD adds another string to the bow of creative model making at Form Bespoke Jewellers. We are keen to ensure that we are at the forefront of bespoke jewellery design creating exciting pieces that suit your specific budget.